Cougar Tracks - Our New Newsletter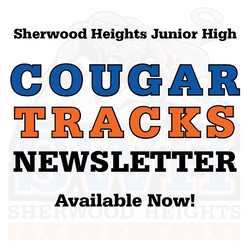 We are pleased to announce a new, weekly newsletter that will help keep our school community updated with the many highlights of the year at Sherwood Heights!  The first issue is out now - future issues will be sent out via email and will be posted in our Newsletter section of our website.
Download the first issue here.  We hope you enjoy!
Parent Teacher Student Interviews
Parent Teacher Student interviews will be held at 4:00-6:30 PM on Tuesday October 30, 2018 and 5:00-7:30 PM on Thursday November 1, 2018. We will be using an online booking system for scheduling interviews this year.
BOOKINGS OPEN on Monday October 22 at 7:00 PM.
Go to www.schoolinterviews.ca and follow these instructions.
Enter the code shjhs in the green area near the bottom
Enter your details
Select the subject(s) and teacher(s) you wish to see
Select the appointment times that best suit your family
Click FINISH and your interview timetable will be emailed to you automatically
(If you do not receive your email immediately – check your junk mail folder)
You can return to www.schoolinterviews.ca at any time, and change your interview time. Remember to use the same name and email address, you used when you made your original booking.
For parents who do not have internet access, please contact the school directly. Interviews are for a duration of 7 minutes.
We are looking forward to seeing you there!
School Pictures Have Arrived!
Photo Orders from our September 12th picture day have arrived! Photos were handed out to students on Friday, October 19th. If your child was absent, or did not receive their photos, they are available to be picked up in the Office from Mrs. Ryan.
Picture Retake Day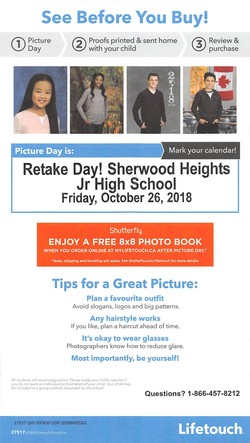 Lifetouch Photography will be here again on Friday, October 26th in the morning for retakes. 
When your child is planning their outfit, please try to avoid slogans, logos and big patterns. If you child wears glasses, that's ok! Photographers know how to reduce glare.  
If you have any further questions regarding ordering photos, delivery dates, etc., please contact Lifetouch directly at 1-866-457-8212.
Sherwood Heights Academic Awards
Students who were unable to attend the awards night on Wednesday, October 17th and have transferred or are now in Grade 10 at another Elk Island Public school, your awards will be sent on to your current school for pickup. All current students can collect their awards from the school office starting on Monday, October 22nd.
Congratulations to all on their achievements for the 2017-2018 school year!
Hot Lunch Program
Our next hot lunch will be Monday, October 22nd and Boston Pizza & Booster Juice are on the menu!
Order Deadline is Midnight on Wednesday, October 17th.
Order online at www.healthyhunger.ca. Don't miss out.
School Fees

Pay School Fees Online!
School fee information for the 2018-19 school year is now posted on the PowerSchool Parent Portal. All fees are due within 30 days of being posted. To access your fee information, simply log in to the PowerSchool Parent Portal and go to "Student Fees." There you can view your fees and pay them online using Visa, MasterCard or INTERAC Online—when available from your financial institution.
Don't forget to also log in to the PowerSchool Parent Portal regularly throughout the year. Fees are often added to your child's account to cover the cost of various school activities such as field trips, class projects, athletic-team fees and more.
If circumstances exist where you are unable to pay your fees, you can apply to have fees waived by submitting an Application for a Waiver of Fees. The application deadline is Dec. 15, 2018.
For more information about school fees, waivers and payment deadlines, visit www.eips.ca/schools/fees and http://sherwoodheights.org/ . Alternatively, contact Mrs. Shantel Noppers, Business Manager at Sherwood Heights Junior High at 780-467-5930.
Enhancing Literacy and Numeracy
As part of Elk Island Public Schools' (EIPS) ongoing efforts to enhance the literacy and numeracy of students in all grade levels, the Division is once again planning to administer two assessment tools during the 2018-19 school year—STAR 360 and Math Intervention/Programming Instrument (MIPI). The tools focus on literacy and numeracy, are digitally based and offer an opportunity for students to demonstrate their learning. The goal: to provide timely information to teachers, help enhance classroom instruction and ensure student learning needs are identified.
In September and May, EIPS students in grades 2 through 12 will complete the STAR 360 assessment, which evaluates reading comprehension. Grade 1 students will take the STAR 360 test. The assessment takes approximately 20 minutes and can be taken on any digital device. Also, students in grades 2 through 10 will complete the MIPI assessment, which is a mathematical screening tool used to inform teachers about a student's math skills. For students in grades 7 through 10, the MIPI takes approximately 50 minutes and for students in grades 2 through 6 it takes approximately 20 minutes. The results of each of the assessments provide the teacher with a clearer picture about a student's learning needs and helps determine if subsequent instructional planning is required.
The scores of the assessments are not used towards a student's grade and there is no need to study ahead of time. They simply provide the teacher with information to better understand where each student is in terms of reading comprehension and mathematical ability. If, after analyzing the results, it's determined a student can benefit from extra support, the teacher will contact the family to discuss possible support strategies.
For more information about the Division's STAR 360 and MIPI assessment tools, contact Deb Barron, the Director of Curriculum and Instructional Supports, at 780-464-3477.
School Messenger
Ongoing communication with our families is important to us.
In order to ensure that we continue to comply with federal anti-spam legislation, parents/guardians are required to subscribe in order to receive routine emails from schools and the Division.
Please look at the link below for more important information about subscribing. 
http://www.eips.ca/contact/subscribe
Phone Calls via School Messenger
You are also able to manage which phone numbers are accessible to our School Messenger system as well. By default, all contact phone numbers are active but you can Manage your subscription preferences online or through the School Messenger app, available through the App Store or Google Play.
The first time you log in, select Sign Up in the top, right corner and create your account using the same email address on file with your child's school
If you have questions about School Messenger or need help creating your account and managing your preferences, contact EIPS Student Transportation at 780-417-8151.
Division News